Crystal Reports Development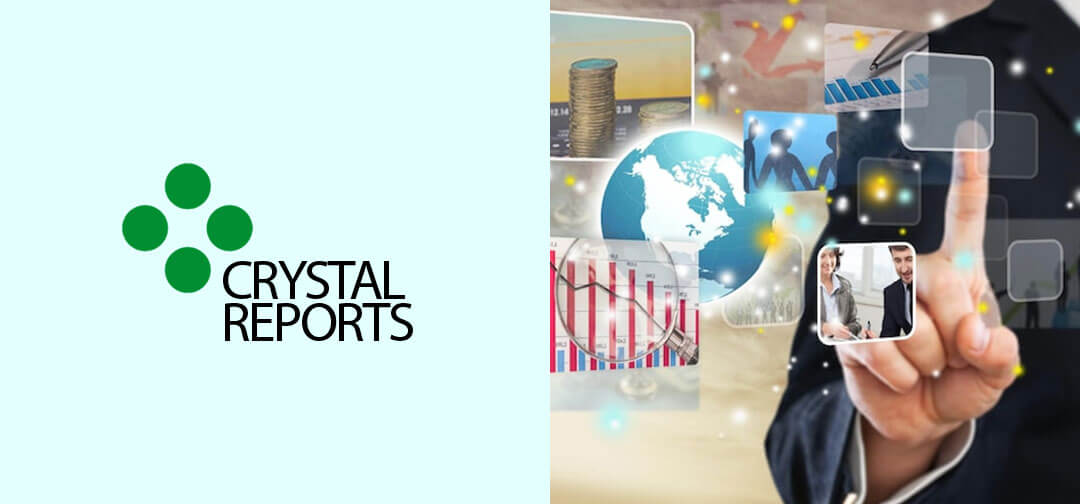 SAP SE now promotes Crystal Reports, a business intelligence tool, to small firms. From a variety of data sources, it is utilized to develop and produce reports. Users of Crystal Reports may visually design the data connection(s) and report structure. Users may choose and link tables in the Database Expert from a broad range of data sources, such as Microsoft Excel spreadsheets, Oracle databases, Microsoft SQL Server databases, Microsoft Access databases, BusinessObjects Enterprise business views, and local file-system data.

Designers of reports can include fields from various sources into custom formulas (using either BASIC or Crystal's own syntax) and then place those formulas on the design surface of the report. As indicated by the developer, formulas can be assessed at various stages of report production.
Service Offerings
We are skilled in using Crystal Reports to provide various reporting solutions. We have completed several projects with success, meeting the demands of our many clients. Some notable aspects of our work include the following:
Competitive edge
To keep a competitive edge, we provide our consumers with extensive reports from practically connected numerous data sources.
Real-Time Reports
Easy to understand real-time parameterized reports designed and implemented.
Versatile Data Access
Using XML & Web Services, we can access data through the web, making it much more flexible.
Interactive Report Viewing
We offer interactive report viewing so that customers may browse reports while sorting, filtering, grouping, and reformatting reports in real time.
Crisp Pagination of Reports
We are capable of customizing page size and handling the page-breaking function pretty effectively, while keeping in mind to eliminate blank spaces by decompressing the page footers.
Cross-tab Reports
Delivering cross-tab reports is one of the most difficult tasks, but we are quite accustomed to managing this kind of report.
Generate reports in various formats
In accordance with our customers' needs; we can create reports in specified formats such as Excel, MHTML, PDF, RTF, etc.
Custom language and settings
To ensure that our users can view the reports in accordance with their custom-selected language and preferences.
Flexible Record Display
We have expertise in generating a sql command or using user-defined code in formula fields to display the records that are managed by the report object repository.
Multiple report viewing options
To make it much more user-friendly, we provide users with different types of report views - whether they are landscape or portrait or you can define the report sizes with 15/12 or A4 etc.
Easy reports Integration
By merging such reports with real-time applications, we maintain a competitive edge. With the help of the parameter panel  our users can set parameter values and obtain the required outcome without refreshing the data.
Skills Matrix
We've created a lot of projects and have first-hand knowledge using Crystal Reports. To assist them with routine operations like connecting and embedding reports, our programmers use automation tools called Experts. In Crystal Reports, all text, graphic, and database fields are treated as objects that may be positioned, arranged, and formatted on forms. A recordset object and the necessary code for programming operations like loops and computations are also generated by the program.

Crystal Reports can create a report on the fly from user-defined variables and can convert it to HTML and publish it to the Web automatically.
Our Development Process
Understanding Requirement
We assign a exclusive team to work with you and understand all the concepts and requirements of your project.
User Interface Design
At Blue Summit, user needs come first and our products follow industry UX design standards.
Software Architecture
While Agile questions upfront analysis, some solution architecture is necessary for effectiveness.
Implementation
Upon obtaining design approval, we build the product according to the client's requirements.
Deployment
After rigorous testing and QA, our experts will launch your product on app stores and web browsers. Get ready to see your masterpiece live!
Support
We regularly monitor and maintain the application and environment to ensure proper functionality.
Request A Quote
Ready to reach your peak?
Contact us today for an initial consultation.
We would be pleased to provide you with information about our tech services, and help you succeed. Blue Summit Technologies have worked with global clients to improve efficiency and productivity, by empowering them with right technologies, tools and software solutions. For more than 20 years, BST teams have helped customers achieve their IT system and software development goals.
If you require support with employee badge printing, timekeeping, site security, or managed services, we have the right answers and the right teams to work. To request a quote, kindly fill out the form on our website and we will revert back on it soonest we can!