Dell Boomi Integrations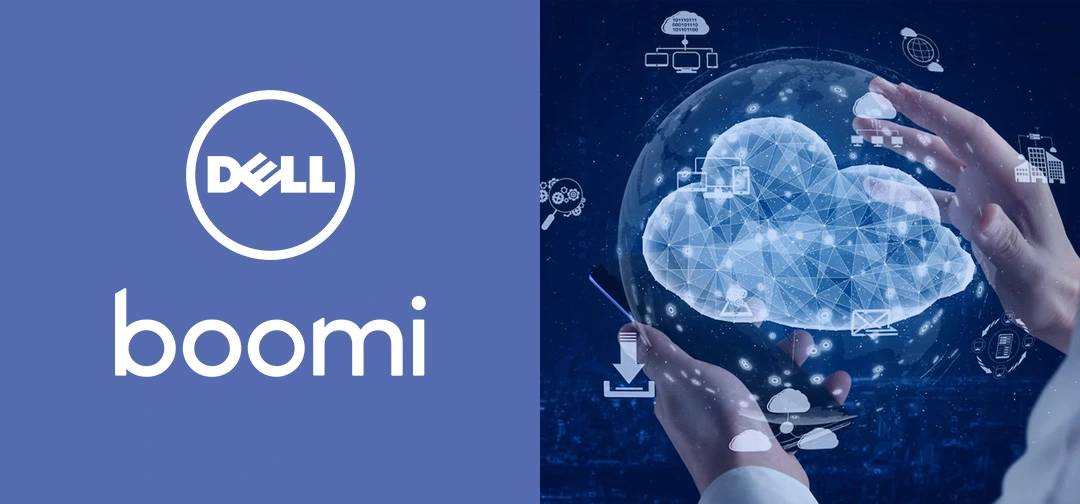 The evolving business environment and fast-changing technologies are pushing enterprises to adopt new systems and technologies, developing a highly heterogenous and complex IT environment do put strains on operational efficiency, collaboration, and outcomes. Businesses need to think of a robust integration platform that unifies people, processes, and data at unprecedented levels to fuel digital transformation.
Dell Boomi as an iPaaS, serves with modern cloud integration, API management, and real-time master data management platform. Dell Boomi Integrations offer multi-tenant capabilities, including data discovery, data integration, data quality governance, B2B/EDI integration, and more. It helps enterprises modernize their IT architecture and scale predictably to meet growing business needs with 99.99% uptime. BST is equipped with Certified Boomi Developers who have essential know-how of the integration procedures. Dell Boomi Integrations Platform is capable of handling complex integrations and can fulfill requirements of the clients within timelines and with the desired level of quality.
We work collaboratively with each client to co-create a cloud strategy, enabling seamless flow of data and transactions across their digital foundation.
Service Offerings
Our Dell Boomi Integrations provide a comprehensive platform for businesses to seamlessly integrate their applications, systems, and data sources. With Dell Boomi Platform, you can choose from a wide range of programming languages and technologies for integration development, making it easier to match your needs and expertise.
These include:
Client-side
Dell Boomi Middleware supports a wide range of standard interfaces and protocols, such as HTTP, FTP, JDBC, ODBC, RESTful Web services, SOAP, and more.
Server-side
Dell Boomi iPaaS provides a drag-and-drop visual interface for server-side development, eliminating the need for manual coding. However, if required, developers can also use languages such as Java, .NET, and Groovy.
APIs
Dell Boomi Integrations Platform provides extensive support for developing custom APIs, with a choice of API styles including RESTful, SOAP, and JSON.
Data transformation
Dell Boomi Software supports multiple data formats and allows data transformation using a range of technologies including XSLT, JSON, and EDI.
Integration processes
Boomi Cloud Integration offers a range of pre-built integration processes that can be customized as required, along with the ability to create custom processes using Boomi's visual process builder.
Skills Matrix
Consulting Services
Uninterrupted Workflow
Optimizing the data integration
Automated Apps for businesses
Enterprise data management
Efficient API & EDI management
Architecting Services
Assessing system & challenges.
Identifying Integration patterns
On-prem/cloud app deployment
Capacity planning & assessment
System & app architecture review
Implementing Services
API-legacy system transition
Automated deployment & support
App alerts configuration & fine-tuning
Data-driven business implementation
Compatibility with existing systems
Development Services
Agile Boomi development roadmap
API Designer & Pre-Built Connectors
Real-time data orchestration
Developing Custom connectors
Transforming data across formats
Designing Services
Establishing API design standards
Supports various data formats
Drag-and-drop integration platform
Error handling & monitoring tools
Secure data transfer as per regulations
Managed Services
Secure & ready-built cloud platform
Advanced connectivity & ITIL-compliant
Meeting architectural & financial needs
VPNs, backups, and disaster recovery
Variable workload support for scalability
Planning Services
Defining timelines & resources
Assessing & analysing current state
Developing project plans and schedules
Conducting risk assessment
Appropriate project management methodologies
Testing Services
Unit testing & system testing
Identifying and troubleshooting the issues
Post-deployment monitoring and testing
Developing test plans and test strategies
Identifying and reporting defects
Platform Support & Services
24×7 support and monitoring
Performance tuning of applications
Automation & process improvements
Providing weekly & monthly reports
Root cause analysis & effective solution
Maintenance & Operation
Maintenance & Operation
Maintenance & timely updating tickets
Security audits for performance growth
Security and privacy compliance concerns
Customized maintenance contracts
Continuous Remote and desktop support
Our Tools and Techniques
Our Dell Boomi Integrations Services leverage a range of rapid application development tools to accelerate integration development and delivery.
These include:
Boomi Flow - a cloud-based visual application development platform that allows users to create and automate workflows for data and application integration.
Boomi AtomSphere - a multi-tenant cloud integration platform that enables integration between various cloud and on-premises applications.
Boomi API Management - a cloud-based API management platform that provides end-to-end API lifecycle management, security, and analytics capabilities.
Boomi EDI Management - a cloud-based solution that simplifies EDI integration, data mapping, and trading partner management.
Boomi Master Data Hub - a cloud-based master data management solution that consolidates data from multiple sources and enables real-time data synchronization.
Boomi Developer Portal - a cloud-based portal that enables API developers to create, test, and manage APIs in a secure and collaborative environment.
Boomi Integration SDK - a set of tools and APIs that allow developers to extend Boomi's capabilities by building custom connectors and components.
Boomi Insights - a cloud-based analytics platform that provides real-time insights into integration processes, application performance, and data quality.
Boomi Suggest: Boomi Suggest is an AI-powered tool that suggests the best integration approach based on successful past integrations.
Boomi B2B: Boomi B2B (Business-to-Business) is a comprehensive tool that enables businesses to manage their trading partner relationships seamlessly.
Our Development Process
Understanding Requirement
We assign a exclusive team to work with you and understand all the concepts and requirements of your project.
User Interface Design
At Blue Summit, user needs come first and our products follow industry UX design standards.
Software Architecture
While Agile questions upfront analysis, some solution architecture is necessary for effectiveness.
Implementation
Upon obtaining design approval, we build the product according to the client's requirements.
Deployment
After rigorous testing and QA, our experts will launch your product on app stores and web browsers. Get ready to see your masterpiece live!
Support
We regularly monitor and maintain the application and environment to ensure proper functionality.
Request A Quote
Ready to reach your peak?
Contact us today for an initial consultation.
We would be pleased to provide you with information about our tech services, and help you succeed. Blue Summit Technologies have worked with global clients to improve efficiency and productivity, by empowering them with right technologies, tools and software solutions. For more than 20 years, BST teams have helped customers achieve their IT system and software development goals.
If you require support with employee badge printing, timekeeping, site security, or managed services, we have the right answers and the right teams to work. To request a quote, kindly fill out the form on our website and we will revert back on it soonest we can!