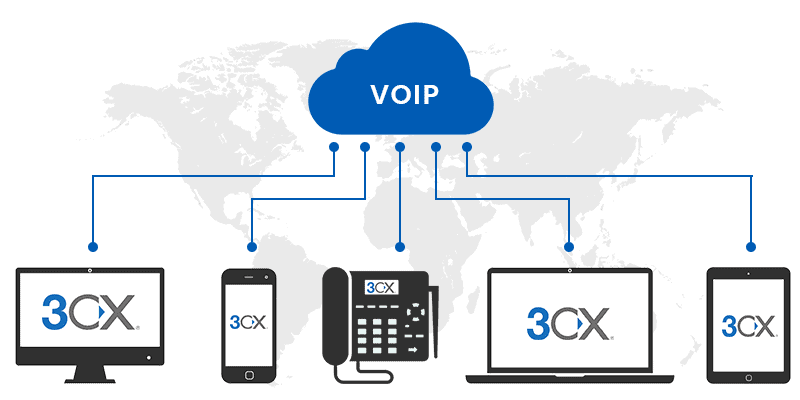 Posted on Thursday, Dec 15th, 2022
3CX VoIP Phone System and Support
Spread the love
The age of separate voice and data networks is so outdated. Now organizations are in search of a more feature-rich communication solution service; something that can cater to more than just voice calls. VoIP (Voice over Internet Protocol) is a one-stop shop for all technology needs and channels of communication that allow people and businesses to communicate via phone over the internet rather than through traditional landlines.
All you need to know about 3CX Phone System Software
1.
The 3CX Phone System is a powerful unified communication solution for VoIP, Video & Messaging, developed and marketed by the company 3CX.
2.
It is more like your regular phone system stuffed with more features that uses a Voice Over Internet Protocol or VoIP which consumes the internet to transfer your call instead of copper lines in a traditional phone system.
3.
3CX is the software-based private branch exchange (PBX) Phone system that is able to turn any standard Windows personal computer system or server hardware into a relevant phone system.
4.
The 3CX Phone System follows the SIP (Session Initiation Protocol) standard and enables extensions to connect calls via the public switched telephone network (PSTN) or via (VoIP) services on-premises, in the cloud, or through a cloud service owned and operated by the 3CX company.
5.
The 3CX Phone System is in the service of Windows, Linux, and Raspberry Pi operating systems and supports standard SIP soft/hard phones, faxing, voice and web meetings, as well as traditional PSTN phone line services.
3CX Phone System Features and Benefits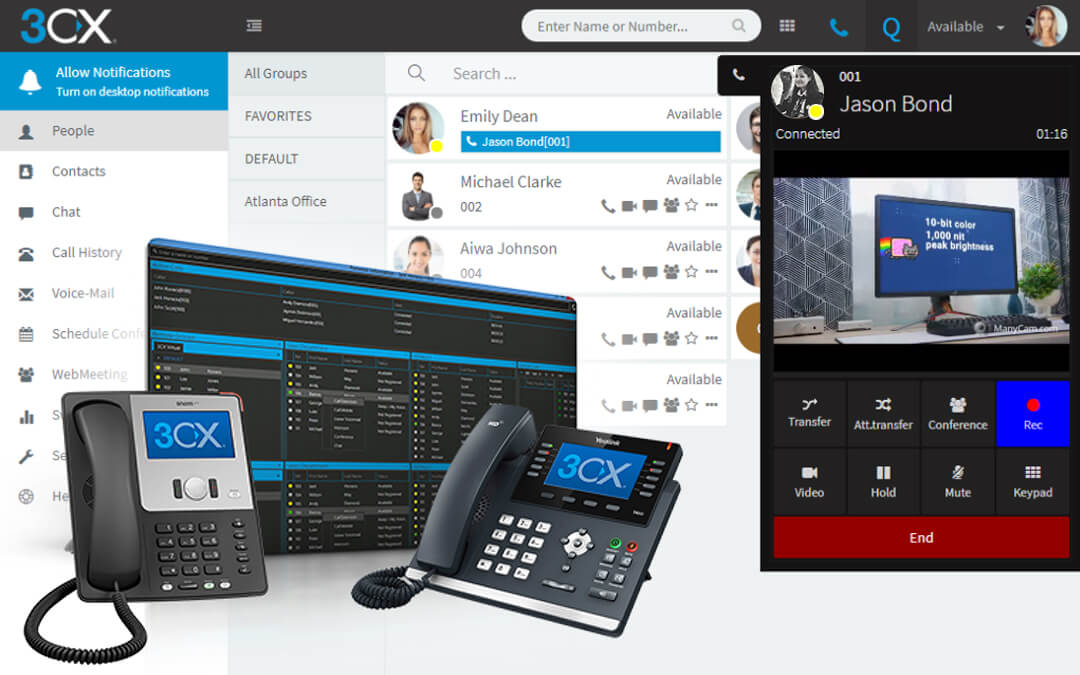 Enterprise-level Video Conferencing
3CX caters to unlimited enterprise-level HD video conferencing for 25-250 members at a time. Users can just schedule a meeting in seconds, or schedule a future meeting without downloading any apps, installing any extensions, or logging in to a separate platform. Apple's Siri also works with 3CX, providing a highly mobile, hands-free experience.
Live Chat with 3CX VoIP provider
With the 3CX live chat function, website visitors can get real-time advice and support from its agents for their businesses while browsing through products or services. One-click voice or video calling lets the agents instantly switch from chatting to face-to-face, or real-time communication.
3CX Phone System Support for Call Management
3CX has easy call management features like hunt groups, call blasting, automatic call-backs, estimated wait times, priority queuing, and more. The real-time push notifications and customizable call routing optimize employee productivity without taking a chance at customer satisfaction.
Call Forwarding with 3CX Phone System Software
Call forwarding channelizes inbound calls to business telephone numbers to additional agent phone numbers, including an agent's cell phone, also to other office extensions and departments to increase the chance for first-call resolution by confirming the chance of connecting a caller or client to a live agent.
Business SMS Provider
The 3CX mobile app for both Android and IOS devices lets users send/receive SMS texts with their designated business phone number which helps in protecting the privacy of their personal number. There's also a queue system designed for all incoming messages so multiple dedicated agents can access them.
Integration Technology
3CX is being integrated with popular CRMs (1 CRM, AmoCRM, Zoho CRM), Office365, and more. Employees can increase productivity and save time with call pop-ups, journals, and more by working seamlessly across a number of applications. In addition to that, the users are allowed to dial numbers from any website or CRM system by simply clicking on the highlighted phone number which is enabled by the 3CX Click2Call extension service for Chrome and Firefox.
Cost cutting for businesses
It is essential to monitor the cost of telecoms and connectivity while the business is in the growing stage and with 3CX this is simple to do. Organizations can save more by deploying 3CX phone system software on existing hardware as a virtual machine system or in the cloud. 3CX Phone System for Windows and Mac, a web-based client, and apps for iOS and Android work seamlessly together for stable, unbeatable connectivity and mobility.
Scalability
3CX helps you to use your ongoing network structure even without facing the problem of rewiring. Moreover, the addition and removal of phone lines become too easy and simple like adding and removing a company's data with no need for any additional add-ons, software, downloads, or hardware.
Full control over your phone system
3CX gives you full control of your own business phone system by allowing it to be hosted in your own cloud or on-premise installation. This provides you the upper hand in managing your own schedule and time without taking any help or aid.
Safety and security
3CX is equipped with the most advanced technologies and software to update security integration into any system. On the other hand, the telecommunication system gives the total management of the software in form of global IP blacklisting, SSL connectivity, SRTP encryption, and automatic detection of SIP attacks on tools.
Conclusion
When it comes to choosing the most relevant, fully hosted, and managed VoIP like 3CX phone system support, do not look elsewhere, Blue Summit is one of the most convenient and reliable 3CX VoIP Providers for your business with fully-featured 3CX Phone System Software that doesn't cost more than one can afford. We are supporting our clients in US and UK with the latest 3CX VoIP solutions.
For more information regarding our VoIP Services, please refer to
https://www.bluesummittech.com/services/voip-services/
Blue Summit has collaborated with
OdiTek Solutions
, a frontline custom software development company. It is trusted for its high service quality and delivery consistency. Visit our partner's page today and get your business streamlined.
REFER TO OTHER RELEVANT CONTENTS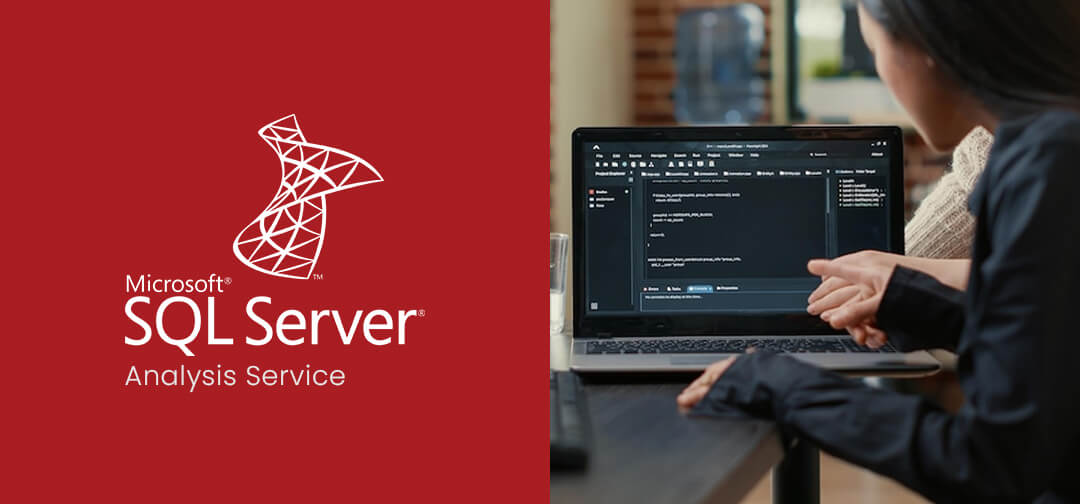 TESTIMONIAL
We engaged Blue Summitt to set up our company's IT infrastructure when we were in the process of embarking on a large clinical trial. A number of years later, Blue Summitt remains our vendor of choice for our IT needs. It is a testament to the quality of their work that we rarely need to call them to address ongoing issues, though when we do the response is always timely and we are always able to rely on their advice.
"Blue Summit has become a valued partner to IES. As our organization has scaled up, gone remote, and expanded internationally, they have provided strategic guidance to support our growth and changing needs. They not only provide superb day-to-day support desk services but also have served as business partners, undertaking projects like opening an office in the UK to help our expansion into Europe."
"I have been working with BST and using their apps for 5 years now and it has been very helpful in managing people and time on multiple sites for our company. The customer service that we receive from BST is outstanding and personable. I would highly recommend BST to any company looking for a timekeeping system with great customer relations."
"Blue Summit are experts in IT and Strategy Consulting as well as Process management. We have indeed loved working with them, and wish to continue on the long and successful partnership."