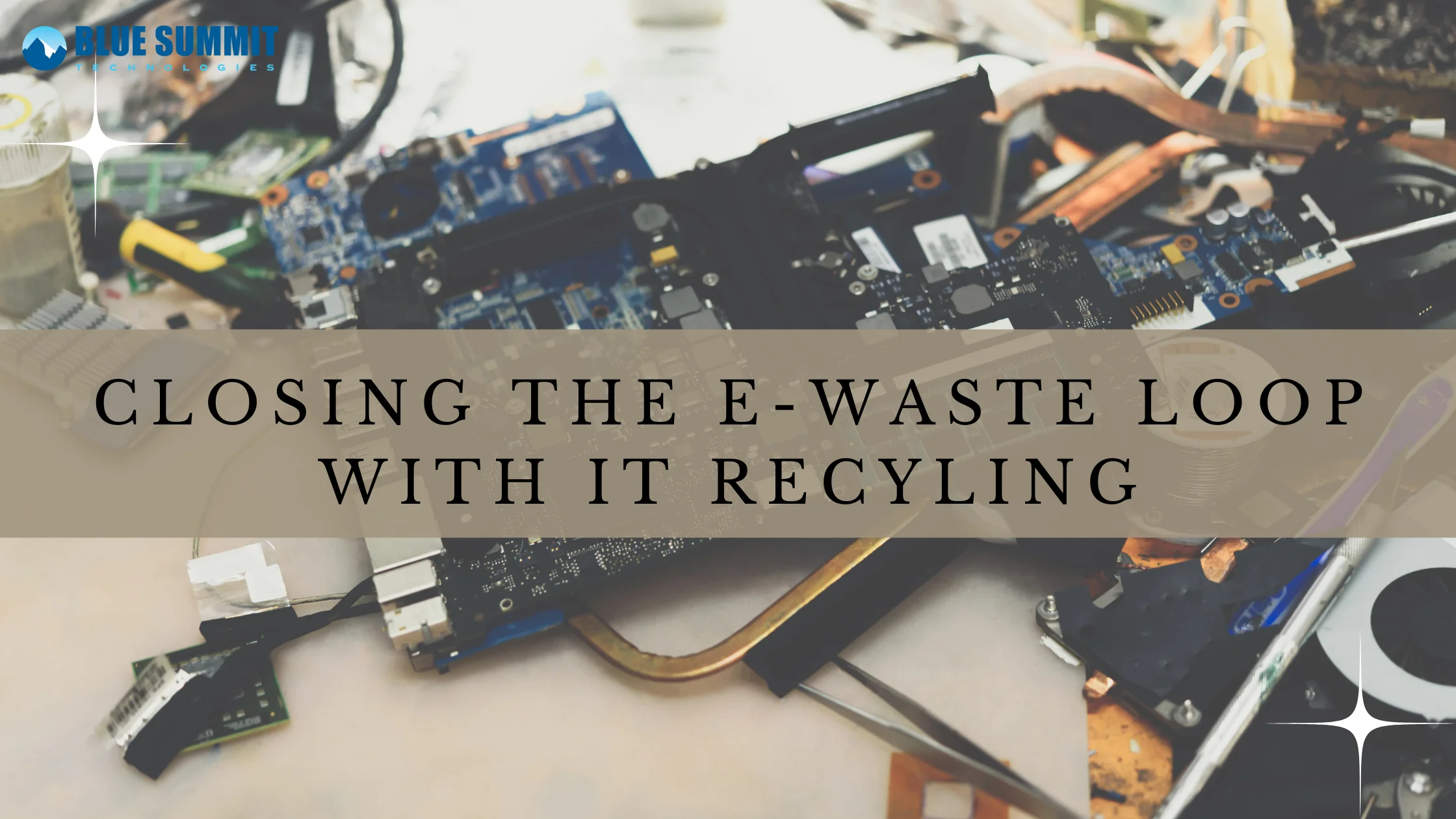 Posted on Friday, Sep 01st, 2023
Sustainable IT Practices: Leading the Way in Electronic Recycling at Blue Summit
Spread the love
In today's fast-paced digital world, information technology (IT) has become an integral part of businesses, organizations, and our daily lives. However, the rapid advancement of technology has also led to a significant increase in electronic waste (e-waste) generation. To address this issue, we at Blue Summit are taking the lead in implementing sustainable IT recycling and practices, particularly in the realm of electronic recycling. In this blog, we will explore the importance of IT recycling and how we are making a positive impact on the environment through its recycling initiatives.
Understanding IT Recycling
Before delving into the journey of a recycled component, it's essential to recognize why this practice is so vital:
1. Resource Conservation
Electronic devices contain a wealth of valuable materials, including metals, plastics, and rare minerals. By recycling components, we reduce the need for mining and manufacturing new raw materials, thus conserving natural resources.
2. Environmental Impact
The production of electronic components consumes substantial energy and generates greenhouse gas emissions. Recycling reduces this environmental burden by reusing existing materials.
3. Waste Reduction
E-waste is a growing problem globally. Recycling components helps divert electronic devices from landfills, where they can release toxic substances into the environment.
Blue Summit's Approach to IT Recycling
Blue Summit, is actively committed to sustainable practices, especially when it comes to electronic recycling. Here's how Blue Summit is leading the charge:
1. Comprehensive E-Waste Management
We have established a robust electronic waste management program that prioritizes the responsible disposal of IT equipment. This includes the collection, transportation, and recycling of electronic devices in an environmentally-friendly manner.
2. Data Security
Data security is paramount when recycling IT equipment. Blue Summit employs stringent data sanitization processes to ensure that sensitive information is completely wiped from devices before they are recycled or repurposed. This ensures the privacy of individuals and businesses while promoting recycling.
3. Component Recovery and Reuse
We recognize that many components within electronic devices can be salvaged and reused. Through careful dismantling and assessment, the company identifies parts that are suitable for refurbishment and reintegration into new devices, reducing the demand for new raw materials.
4. Collaboration with Certified Recyclers
Blue Summit partners with certified e-waste recycling facilities that adhere to strict environmental regulations. This partnership ensures that the recycling process minimizes the environmental impact and maximizes resource recovery.
5. Promoting Awareness
We believe in spreading awareness about the importance of IT recycling. Through educational initiatives and collaborations with local communities, the company aims to educate individuals and businesses about responsible e-waste disposal and recycling.
The Ripple Effect: Benefits of Our IT Recycling Initiatives
1. Environmental Preservation
By responsibly recycling IT equipment, we contribute in reducing the negative environmental impact of e-waste, preventing hazardous materials from entering landfills and contaminating ecosystems.
2. Resource Conservation
Recycling electronics conserves valuable resources such as metals, plastics, and rare minerals. This reduces the need for mining new materials and helps alleviate the strain on the planet's natural resources.
3. Energy Savings
The recycling process requires less energy than producing new electronic devices from raw materials. By recycling IT equipment, we indirectly reduce energy consumption and associated carbon emissions.
4. Job Creation
Our commitment to responsible recycling contributes to the creation of jobs in the e-waste management and recycling industry, promoting economic growth.
5. Donation to Charity
Following the successful recycling process, the equipment is then generously donated to a charitable organization, providing it with a new purpose and home.
Towards The End
In an era where technology is ever-evolving, it is crucial to prioritize sustainable practices in every aspect of our lives, including IT. Blue Summit's exemplary efforts in electronic recycling not only demonstrate corporate responsibility but also set a benchmark for others to follow.
By practicing sustainable IT practices, we are not just minimizing its environmental footprint, but also fostering a greener and more sustainable future for generations to come. We enthusiastically welcome your requests and are committed to diligently addressing them as we endeavor to make our world a more sustainable and pleasant place to inhabit. Refer to
our blog
to know more insights about our recycling process. Check our other skills and services on our
official website
.
Blue Summit has collaborated with
OdiTek Solutions
, a frontline custom software development company. It is trusted for its high service quality and delivery consistency. Visit our partner's page today and get your business streamlined.
REFER TO OTHER RELEVANT CONTENTS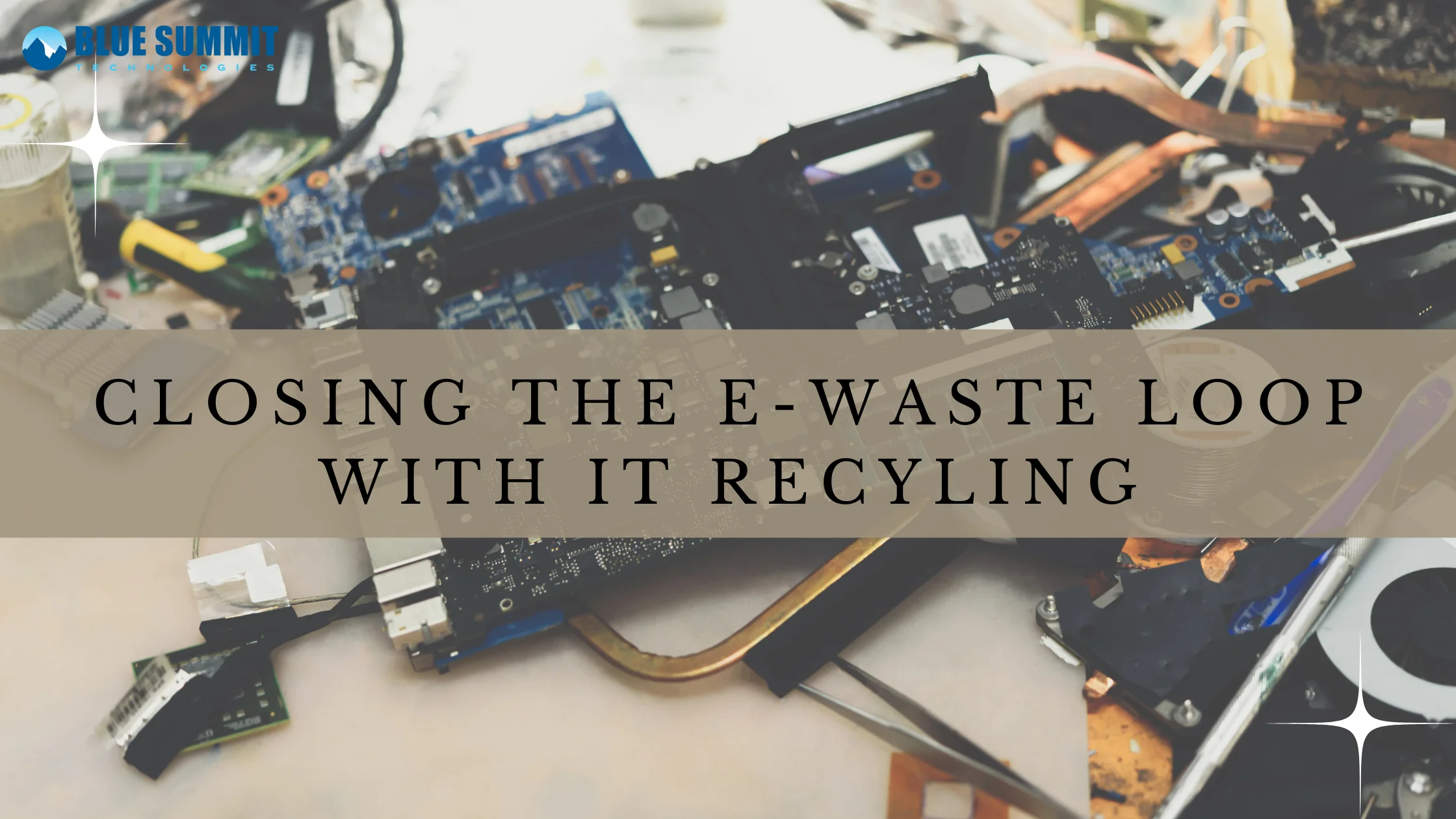 TESTIMONIAL
We engaged Blue Summitt to set up our company's IT infrastructure when we were in the process of embarking on a large clinical trial. A number of years later, Blue Summitt remains our vendor of choice for our IT needs. It is a testament to the quality of their work that we rarely need to call them to address ongoing issues, though when we do the response is always timely and we are always able to rely on their advice.
"Blue Summit has become a valued partner to IES. As our organization has scaled up, gone remote, and expanded internationally, they have provided strategic guidance to support our growth and changing needs. They not only provide superb day-to-day support desk services but also have served as business partners, undertaking projects like opening an office in the UK to help our expansion into Europe."
"I have been working with BST and using their apps for 5 years now and it has been very helpful in managing people and time on multiple sites for our company. The customer service that we receive from BST is outstanding and personable. I would highly recommend BST to any company looking for a timekeeping system with great customer relations."
"Blue Summit are experts in IT and Strategy Consulting as well as Process management. We have indeed loved working with them, and wish to continue on the long and successful partnership."