NIST stands for the National Institute of Standards and Technology, which is a non-regulatory government agency that plays a vital role in advancing measurement science and fostering innovation. There are NIST standards and guidelines that federal agencies, government contractors, and private businesses adhere to as a measure to increase their information systems security. It is also a step towards protecting their sensitive data. Companies that deal with controlled unclassified information or work directly with the federal government might be mandated to become NIST compliant.

In this guide, you will learn more about what it takes to obtain NIST compliance and the benefits of being NIST compliant.

What is NIST Compliance?
NIST compliance refers to meeting the requirements set as part of the NIST guidelines for
cybersecurity
. When you are NIST compliant, it means that you have adopted the standards of the NIST Cybersecurity Framework. It also expresses your commitment to continue ensuring compliance over time as the NIST standards evolve together with the ever-changing cybersecurity landscape. As cybersecurity threats develop, it is important to stay abreast on the NIST Cybersecurity Framework to ensure that you have the latest security controls that will enable you to overcome vulnerabilities and other cybersecurity threats.
Remaining NIST compliant is vital because it helps to protect your sensitive data and whatever those data represents. For example, a government agency website is hacked and steals personal information from regular citizens. The attack might be targeted on the agency but it is the people whose data were stolen that are the true victims of these cybersecurity risks. NIST compliance is one of the ways that you can manage cybersecurity risk and boost security measures.
Is NIST Compliance Mandatory?
No, being NIST compliant is not mandatory. However, federal agencies are required to maintain the NIST guidelines as it is critical to fulfilling the Federal Information Security Management Act (FISMA) requirements.
It is also mandatory for those companies or contractors that engage with the federal government. Your contract with the government might state that NIST compliance is one of the requirements. While it might not always be mandatory, it's good to be NIST compliant to eliminate any potential obstacle when you go through a bidding process with other aspiring contractors.
What Does it Mean to Be NIST Compliant and Why Is it Important?
NIST Compliance means that you have met and/or satisfied the NIST standards, best practices, and guidelines. These standards were created to maintain the reliability, security, and effectiveness of information systems employed by entities within the public and private sector.
It is important to abide by the NIST security standards so that you can protect sensitive data or sensitive unclassified federal information. Meeting the best cybersecurity practices based on the NIST cybersecurity framework guarantees that your information systems will remain functional even when there are data breach incidents.
The NIST guidelines are also periodically updated and reviewed based on the evolving technological landscape and the potential cyber threats that organisations could face.
What is the NIST Cybersecurity Framework?
The NIST Cybersecurity Framework provides in detail the NIST security standards to ensure utmost data protection and security for the entire organisation. Following the security standards outlined in the NIST Cybersecurity Framework also ensures that you have adequate access controls and the critical infrastructure against cybersecurity incidents, such as data breaches.
Step 1: Identification
The first step in the NIST Cybersecurity Framework is to identify the most sensitive data and information systems that need protection. It applies to those that directly involve customers, patients, etc. For example, private sector businesses must ensure the security of customer data.
Step 2: Protection
The protection phase is when you put the plans into action. This is where you implement the security solutions you developed to safeguard the sensitive data that was identified in the first step. Improving the security measures will often involve deploying software, hardware, and other types of tools. All employees and stakeholders within an organisation must work together in safeguarding sensitive data against cyber threats.
Step 3: Detection
This step in the cybersecurity framework is when you acquire or design tools that would alert your organisation of data breach incidents as soon as they happen. It requires continuous monitoring of the various devices and systems in place that could potentially be the point of entry for data breaches and other similar attacks. Other examples of tools include applications and other tools you use for regular business functions.
Step 4: Response
The fourth step in the NIST cybersecurity framework is a critical one. You must devise a plan on how to respond to cybersecurity incidents that will reduce the impact of cybersecurity attacks on private sector businesses and federal information systems. The response procedure deployed should include intentional redundancies and specific measures that are designed for the specific nature of the cybersecurity attacks.
Step 5: Recovery
If the information systems had been compromised due to the attack, the NIST cybersecurity framework also provides guidance documents on how to facilitate recovery. The goal of the NIST framework is to ensure that you can recover data from backups, regain control of your information systems, and implement other resiliency measures to reduce the negative impact on the organisation.
Benefits of NIST Compliance
The decision to comply with NIST and working hard to achieving compliance is a smart decision for any organisation, whether private sector businesses or federal government agency. Building security frameworks can heighten data security controls and ensure that you implement the best cybersecurity practices.
The following are the top benefits of becoming NIST compliant, regardless of the nature of your business.
1. Improved Data Security
The NIST publications and guidelines were written to ensure maximum protection for sensitive customer data and
other tools
within your network. It provides support for the critical infrastructure and that your systems protected against various threats. Whether you are dealing with classified data or not, employing the NIST security standards can keep those data safe.
Data protection is a way for private sector businesses to earn the trust of their customers because they know their sensitive data is safe. If you're unable to provide the best security controls against cybersecurity risk, then it could negatively impact your reputation. You could easily prevent these incidents by employing the cybersecurity framework from NIST.
2. Compliance with Other Regulations
While the decision to comply with NIST isn't mandatory, it can help improve your chances of complying with other regulations. There are several mandatory regulations that businesses have to comply with, or for those businesses that want to enter into government contracts. One example of this is the HIPAA Security Rule and the HIPAA Accountability Act.
3. Competitive Advantage
As mentioned above, customers trust businesses that comply with NIST because it gives them the assurance that their data are protected. NIST compliance is one of the risk management framework approaches that you can employ in protecting critical infrastructure and the systems in place. As a result, your target customers will choose you over other businesses that don't have the same security standards.
4. Enhanced Reliability
NIST compliance gives you confidence that all systems are protected and working efficiently. Ensuring compliance allows your organisation to handle any security threats and data breaches knowing full well that you are capable of overcoming them, even major threats.
5. Improved Incident Response
When you comply with NIST standards, you know how to respond when cyber threats occur. You have access to plans and procedures that protect your organisation from the major impact on such incidents. A well-designed incident response plan enables your organisation to protect your reputation and any important data that you own.
6. Business Continuity
In addition to minimising the impact of any cybersecurity risk, ensuring business continuity is one of the benefits of NIST compliance. You can guarantee that you have the necessary systems and data security in place to ensure that you can continue to operate and serve your customers. You are able to continue aiming toward your business objectives even in the face of emergencies and risks.
7. Enhanced Risk Management
NIST compliance is one of the ways that you can identify and mitigate risks even before cybersecurity attacks happen. Increased awareness of risks can help you to reduce the likelihood of those risks from happening. Taking proactive steps to protecting controlled unclassified information is better than knowing what to do when incidents do happen.
Types of NIST Compliance Security Controls
Based on the NIST Cybersecurity Framework, there are different areas of security controls that you can implement within your organisation. These are detailed below:
Access Controls – A security solution to ensure that only authorised individuals gain access to sensitive data.
Accountability – It involves conducting checks and balances to ensure that you deploy the highest level of data protection.
Contingency Planning – You need to have backup plans in the event that your primary security controls fail or unable to give the protection you wanted.
Maintenance – It is important to deploy the latest and updated information systems for reliability.
Training – All team members must be given adequate training, so they can aid in protecting valuable data.
Identification and Authentication – Make sure you have a system to verify and authenticate the identity of users who have access to your critical infrastructure systems.
Incident Response – It is a well-designed plan that serves as guide when a data breach incident does occur.
Media Protection – All software and hardware tools that contain sensitive data must be kept safe at all times.
NIST Compliance is an On-going Process
Once you have the plan in place to deploy the cybersecurity framework based on NIST guidelines, your work does not end yet. The NIST CSF is only the beginning because you need to continuously work on your cybersecurity posture and conduct regular self assessment on existing policies. The goal is to ensure that you stay abreast with the latest security standards and regulations set by the NIST CSF.
The technological landscape is constantly evolving. And this means that cyber attackers can also access the latest technologies and sophisticated tools that enable them to target organisations that do not comply with NIST or are lacking in access controls.
Speak to Blue Summit
today to help implement a robust cybersecurity framework for your organisation.
REFER TO OTHER RELEVANT CONTENTS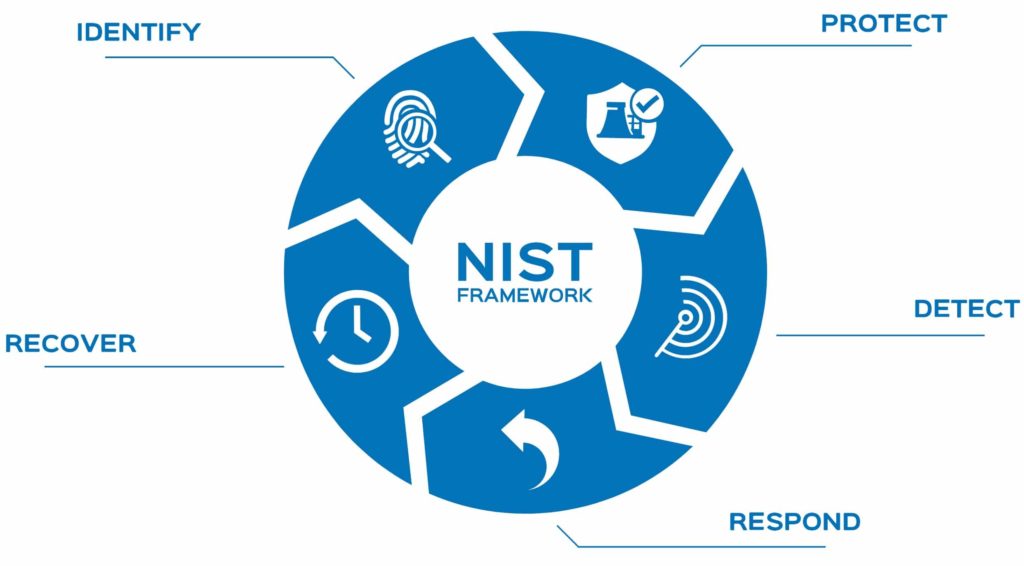 TESTIMONIAL
We engaged Blue Summitt to set up our company's IT infrastructure when we were in the process of embarking on a large clinical trial. A number of years later, Blue Summitt remains our vendor of choice for our IT needs. It is a testament to the quality of their work that we rarely need to call them to address ongoing issues, though when we do the response is always timely and we are always able to rely on their advice.
"Blue Summit has become a valued partner to IES. As our organization has scaled up, gone remote, and expanded internationally, they have provided strategic guidance to support our growth and changing needs. They not only provide superb day-to-day support desk services but also have served as business partners, undertaking projects like opening an office in the UK to help our expansion into Europe."
"I have been working with BST and using their apps for 5 years now and it has been very helpful in managing people and time on multiple sites for our company. The customer service that we receive from BST is outstanding and personable. I would highly recommend BST to any company looking for a timekeeping system with great customer relations."
"Blue Summit are experts in IT and Strategy Consulting as well as Process management. We have indeed loved working with them, and wish to continue on the long and successful partnership."